As a web developer, I started FullStacked because I was tired of starting new projects with old unmaintained project starters and always rewriting dozen of redundant scripts for functionalities that are the exact same in every web app projects. The full story is here: https://cp-lepage.medium.com/creating-web-apps-the-tale-of-a-millennial-js-developper-667e4b90589a
So I began developing a npm package in which React and Express were already fully setup with esbuild and instantly providing create, build, watch, test and deploy functionalities. Since then, I realized that there is much more than only react and express in this world.
Last night, I decided that fullstacked.org will come with nothing else than the needed dependencies to run, watch, test, deploy and backup/restore a zero dependency web app (Web Components and NodeJS http server). The creation part will all move to create-fullstacked and will enable to start projects from saved template starters.
Since FullStacked takes the advantage of always running inside docker containers (making it 100% cross-platform), template starters will also allow to setup docker-compose files and provide a full stack web app setup including the needed third-party services. Everything ready to work off the shelf, templates will also be updatable, so your project doesn't need hours of getting up to date whenever you come back at it.
Examples :

MERN + Storage + Auth
-------
Frontend React
Backend Express
External MongoDB, MinIO, FusionAuth

Gatsby + CMS + Analytics + Chat
-------
Frontend Gatsby (React)
Backend NodeJS
External Strapi, Plausible, Papercups

Robust Web App 
-------
Frontend React
Backend NestJS
External Redis, PostgreSQL
I'm currently developing everything as a node CLI with fullstacked.org repo, but my endgame is a clean and efficient interface. That is why I started ide.fullstacked.org which will be offered as a SaaS at fullstacked.cloud.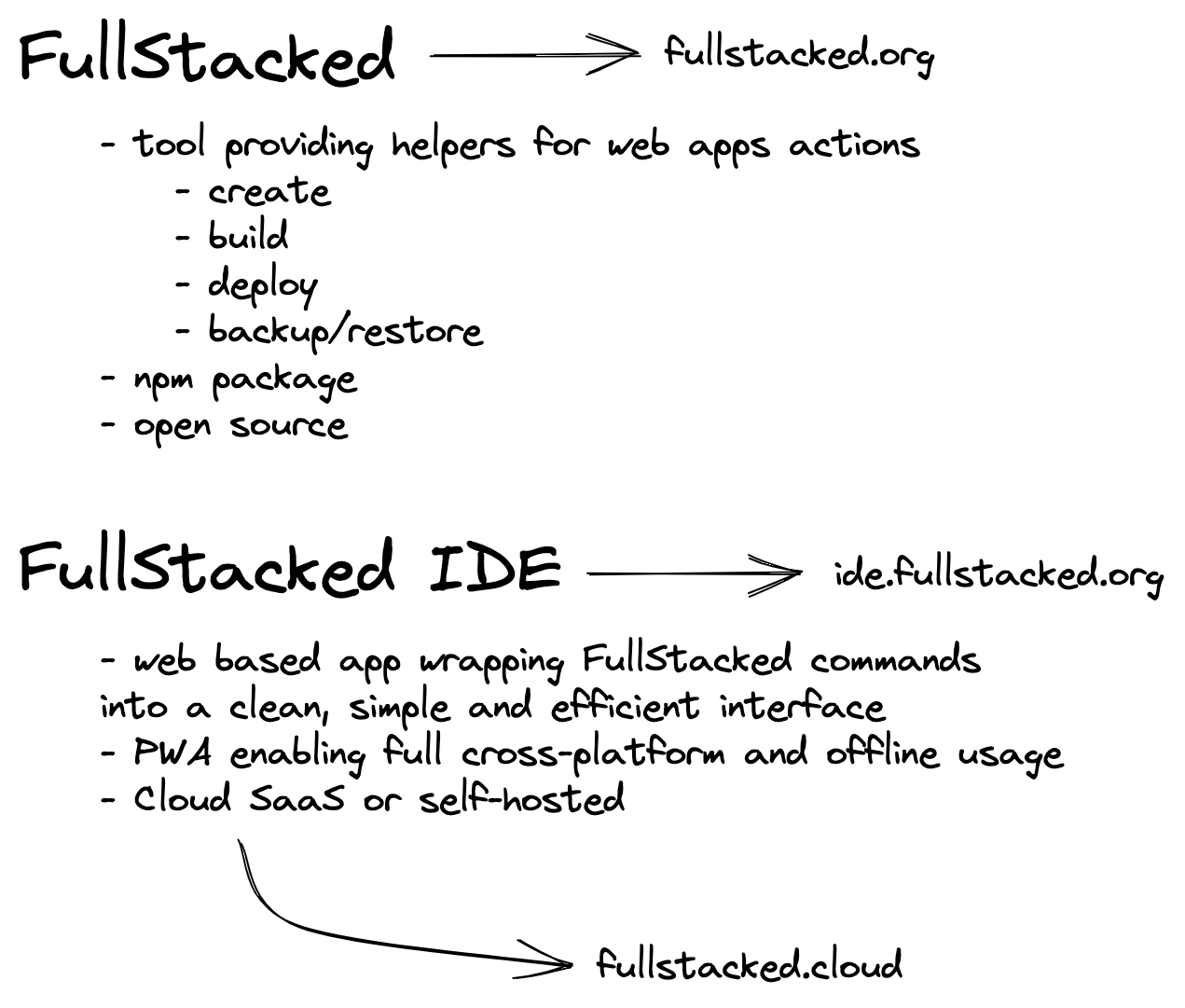 I set myself a hard deadline in early November to launch a first version of the web based IDE with the initial FullStacked template (Web Components and NodeJS http server) and from there we'll jump onto crazier templates and setups!
Hopefully we'll save countless hours of redundancy between different projects, provide some of the finest web app setups to the world and give to any developer the essential commands to go through the whole web app lifecycle.
If you are interested in the project, here's some links to follow the development:
Thanks for reading!